---
Our Teachers
---
Louisa Burgess
Big Voice Studios is very proud to welcome Louisa Burgess to Big Voice Studios! 'Lou' is originally from Bristol England, and is a sought after voice teacher, specializing in Commercial Voice, with a focus on Musical Theatre Performance. As a teacher in The Performing Arts Departments at both George Brown College and Sheridan Institute of Technology and Advanced Learning, Louisa is our Musical Theatre Specialist, and has a busy private studio of her own. She is also proud to have been teaching in Monterrey Mexico and Mexico City since 2007 with the acclaimed Theatre Company DuboForce.
Having graduated from the Sheridan College Musical Theatre Performance program herself, and winning the Rosemary Burns Award, Louisa constantly continues her studies of acting, singing and voice extensively in Canada and New York City. She is a powerful performer, having appeared in theatres all across Canada and in New York and was critically acclaimed for her role in the Bravo short film "In Her Mother's Eyes", which went on to win the Sir Tim Rice Award at the Sarasota Film Festival. For Disney Live New Work's Project in Manhattan, Louisa performed the role of Joan D'Arc in the musical "Divine Heretic" and most recently, was thrilled to perform at the Laurie Beechman Cabaret Theatre in New York in Voco Doro's production of "I am … the Music of Babbie Green".
In the recording studio, her career has spanned over 20 years, and includes hundreds of animation projects, voice over, commercials, show tunes, demos and most notably the re-occurring role of Aunt Chloe in Nelvana's animated series Ned's Newt. Directing and music directing has taken her throughout Southern Ontario over the past 25 years. For 6 years she was the resident Vocal specialist and Musical Director for the Toronto Youth Music Theatre Company and in November 2009, Louisa had the honor of being the Musical Director for the Toronto Ensemble for "A Night with Jason Robert Brown" at the Glenn Gould Studio.
Ms. Burgess is also a busy adjudicator for the National Music Festivals for the Musical Theatre and Commercial Voice Categories and was recently awarded the distinction of being recognized as one of George Brown College's Top 20 Faculty Members, making a significant contribution to excellence in teaching and learning. With passion to burn, Lou will take your voice and talent to new and amazing heights.
Louisa's favorite role to date is being Mummy to daughters Lillia and Zara.
Robert Horvath – Piano Teacher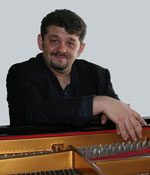 Robert Horvath was born in Budapest, Hungary. He began his studies at age of 7 and four years later he won First Prize at the Hungarian-Russian Competition for Young Pianists, which was broadcast on Hungarian National Radio in 1982.
He studied at the Bela Bartok Conservatory of Music and at the Franz Liszt Academy of Music, where he graduated with a prize in piano and a Master's Degree in Performance and Teaching. In 1995 won a scholarship to the Hochschule der Kunste in Berlin, Germany. After arriving to Canada in 1998 he has made solo piano recordings for CTV's music library and numerous recordings with the Sheraton Cadwell's Orchestras. Robert is regularly engaged to classical concerts as a soloist with symphonic orchestras. He has great reputation as well in the jazz and big band styles as he had played jazz on musical events with well known bassist Dave Young. Robert has been the musical director of several musical productions in Toronto including "Me And My Girl" and "Hello Dolly".
Throughout his musical career, Robert was consistently worked with classical, jazz and musical theatre singers as an accompanist as well as a coach.
Currently Toronto based, Robert is in great demand as a piano teacher, to which he maintains a strong and active commitment. He runs a thriving private teaching practice in the city and is an established piano tutor to young pianists.
In 2008 Mr. Horvath was rewarded a grant by the Canada Council for the Arts.
Anna Mastin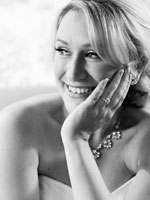 Anna Mastin is well seasoned in her performance and training in classical, jazz, pop, theory, arranging and composition, making her a valuable addition to the teaching roster at Big Voice Studios. Having received both her Grade 9 Voice and Grade 10 Piano Certificate from The Royal Conservatory of Music by the age of 18, Anna then graduated from The University of Toronto with a Bachelor of Music in Jazz Performance, having been the only singer in a sea of instrumentalists accepted into the 2002 program. In addition, she was privileged to study privately with esteemed teacher Frank Falco for jazz piano, and to receive extensive private vocal lessons with Elaine Overholt.
Live performing has taken Anna from The Rex jazz and blues bar to Roy Thomson Hall to CTV and The W Network and she has shared the stage with luminaries John McDermott, Quartetto Gelato, Steven Page, Mike Murley, and international sensation Paul Potts. She has recorded 3 full-length albums including one with the Downbeat award-winning vocal jazz ensemble "Vox" in addition to many solo recording projects at Metalworks Studios and Trebas Institute in Toronto.
International touring in Austria, Italy and France as a performer and competitor has given her insight into the passion, fear and joy of live performance. She has taught classes and workshops at the high school and elementary level and given private piano and voice lessons from her home studio in Toronto.
Anna Mastin also happens to be the Big Voice studio manager, working passionately to help each singer delve deeply into the art, craft and business of singing.
David Ioannou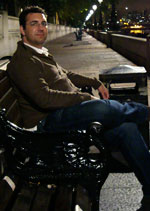 DAVID IOANNOU, an educator, professional jazz & rock singer, classical musician, arranger and composer, brings a wealth of experience to Big Voice.  A graduate of The University of Toronto with a Bachelor of Music in Jazz Vocal Performance, David also earned his Bachelor of Education from The University of Canterbury, and has studied privately with Elaine Overholt for years. He is in constant demand for his exquisite voice.
Extensive performing includes solos at many of Toronto's jazz & rock venues, including The Rex & The El Mocambo.  Not only did he record two albums as soloist in the Downbeat Award-winning U of T Vocal Jazz Ensemble, David is also a classical musician who plays String Bass and French Horn at a professional level, and is a member of The Richmond Hill Philharmonic Orchestra.
David has also worked as a voice clinician in Canada and New Zealand and his arrangements and compositions range in style from pop to big band.    Above all, David is a perceptive and gifted teacher with an amazing ear for bringing out each singer's strengths.  Working with the voice is his passion and David's goal is to have each student address their own physical and emotional blocks in order to find full freedom and their highest performing potential.
Devrim Eldelekli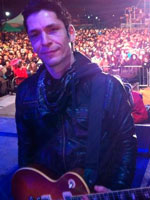 Devrim Eldelekli – Guitar & Theory
B.Mus., Berklee College Of Music, Boston, MA
Diploma, Musicians Institute, Los Angeles, CA
Devrim studied Jazz and various popular styles of guitar at GIT in California and earned his degree in Jazz Composition at Berklee College of Music in Boston. His private studies included classical composition and guitar, as well as Jazz guitar. He since has been a performer and session musician in the US, Canada and Europe. His live and studio credits include a wide range of singer/songwriters from Universal artist Keshia Chante, Canadian Idol winner Kalan Porter, Philosopher King frontman and Track & Field producer Jarvis Church and Hip Hop artists Saukrates (Nelly Furtado) and Redman. He has been a long time member in up and coming alternative-country singer Emma-Lee's live and studio band, toured with Canadian Idol runner up Billy Klippert, was a co-writing member of alt/pop/rock band blueVenus and is the first call for a countless other singer/songwriters such as Stacey Kaniuk, Natasha Waterman, Maya Solovey (NYC), Joydrop and most recently Gray.
Devrim shared the bill with Sarah Harmer, Andy Kim, Sam Roberts, Ron Sexsmith, Simple Plan, The Sheepdogs, Our Lady Peace, Buck 65, Lights, Kevin Drew (Broken Social Scene), Tim Robbins, Jann Arden, Shawn Desmond, Fefe Dobson.
He has worked with Juno award winning producer L Stu Young (Prince "Musicology") and platinum record producer Matt DeMatteo (Mobile, Big Wreck, Serena Ryder).
His live TV appearances include Canadian Idol, Much Music, The Marilyn Denis Show, BT, Canada AM, ET Canada, CBC Sunday Morning, Recipe To Riches, a.o.
Currently he is based in Toronto, where he regularly performs, records and teaches guitar and music theory.
Devrim is a very welcome addition to Big Voice Studios where he will be teaching guitar and theory.
Michael Hanrahan – Acting and Performance Coach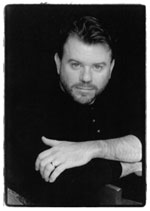 Michael Hanrahan has established himself as an integral part of Big Voice Studios in Toronto where he instructs students of an elite standard on song performance and speech training and co-teaches the sought-after Performance group sessions with Elaine Overholt. His straightforward approach to coaching inspires singers and actors to find their authentic, powerful and passionate voice and communicate that in their given field. Michael Hanrahan is a founding member & actor of The Soulpepper Theatre Co. which The New York Times heralded "the best reason to stay in the city [of Toronto]." He was hand-picked in Chicago to join the Stratford Festival Theatre Company where he spent four years. Mr. Hanrahan has lent his spectacular speaking voice to many television and radio endeavours for the CBC, The New York Times, and The Discovery Channel as well as appearing in numerous films, television series and commercials. Mr. Hanrahan has been an instructor at De Paul University, MacMaster University, The University of Ottawa and The University of Waterloo as an artist-in-residence. He has also guest lectured at many other colleges and universities throughout North America.
Brooke Harris
Brooke Harris is a Toronto based, classically trained soprano who now splits her time between teaching and performing as a pop-rock singer/songwriter. As a seasoned performer and teacher of many styles, Brooke is in high demand as a vocal coach and understands how to "cross over" in vocal sound from classical to pop to rock to theatre. Her understanding of impeccable technique and how that flows and supports all styles makes her a valuable asset to Big Voice Studios. Brooke also has a deep passion and experience in the art of songwriting and how the singer needs to honor the song in order to build powerful performances.
With a Masters degree in opera performance from the University of British Columbia, she has sung classically in Europe and the United States and has been a member of the famed Nathanial Dett Chorale. While pursuing classical music, Brooke performed several operatic roles with orchestra including: The Queen of the Night in Mozart's Die Zauberflöte and Diana in Offenbach's Orpheus in the Underworld./p>
Brooke has been writing and performing her own music for well over ten years, and recently released a solo EP of original music titled Six Trax under her middle name Gray.
Glenn Morley – Composer / Conductor / Music Director
Glenn Morley is a Toronto-based composer, conductor, musical director and producer with an extensive background in music for Theatre, Television, Film, Album Recording and Multi-Media Productions. He has credits as Composer/Musical Director/Conductor for more than 2000 television episodes and Film projects, garnering numerous nominations and awards.
He co-produced and orchestrated 'Canto', Gino Vannelli's acclaimed Classical CD, as well as producing Alfie Zappacosta's Album 'Start Again', numerous tracks for Take Three, and Mark Masri.
Mr. Morley was the Musical Director for the Opening Ceremonies for the Michael Lee-Chin Crystal at the Royal Ontario Museum, and Musical Director/Producer of The Canadian Songbook Project at Massey Hall for the Luminato Festival. He has frequently conducted orchestral engagements across Canada for Holly Cole.
He is a founding member and past President of the Guild of Canadian Film Composers, and is currently a Director of SOCAN, and is also President of the Glenn Gould Foundation.
Mr. Morley has given numerous lectures, courses and seminars on all aspects of Music Production and Practises at a number of Educational institutions including York University, the Royal Conservatory of Music, Ryerson University, Humber College, and the Law Society of Upper Canada.
Judy Marshak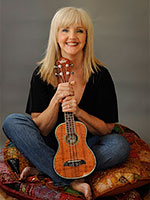 Award winning actress and recording artist Judy Marshak has enjoyed a long and celebrated career in theatre, television, film, and voice-over. She has graced jazz clubs and concert halls across the country, and starred in such hit musicals as "Beauty and the Beast", "Anne of Green Gables", "The Drowsy Chaperone", "The Full Monty" and many more. Her highly acclaimed solo jazz CD, "A Matter of Time" was included on JAZZ.FM91′s list of 'Favorite New Releases of 2009′, and is currently featured on the regular playlists at JazzFM91, CBC Radio, CHRY105.5FM, WOSR-Radio, and many live streaming internet stations around the world. CBC's George Anthony said, "…at long last, veteran showstopper Judy Marshak has finally released her first album, and as expected, it's a musical bonbon to savour…". The Toronto Star's Richard Ouzounian placed her CD alongside Michael Feinstein's and 6 others as his prime picks for the 'Broadway' crowd. Judy's #1 passion revolves around her favourite instrument, the ukulele. Her Solo Ukulele Show has been drawn crowds in clubs all around Toronto and as far away as the Isle of Tobago. With three ukes, a banjolele, and a repertoire covering everything from Dinah Washington to Jack Johnson to Madonna, Judy shows you why this cool little instrument has risen from pop culture exile to ultra hip.